A response from our customer service team may take a little longer as we are experiencing a huge volume of queries. Find answers to your FAQ's here.
RadMission
Electric Metro Bike
Availability:
Introductory Price
25 km/h
Top Speed
250W
Geared Hub Motor
Up to 80+
Kilometers per Charge (estimate)
504 Wh
Lithium-Ion Battery
125 kg
Payload Capacity
21.5 / 22 kg
Total Weight (incl. battery)
View all technical specs
Built for Riders on a Mission
The RadMission is a slick, stylish single-speed electric metro bike for city riders craving more excitement and utility than your average fixie -- and at an introductory price of €1099, it's available at our lowest price point ever. Don't let its simplicity fool you. With a 250W geared-hub motor and 45-80 + kilometre battery range, it's ready to handle any mission.
Technical specs
Narrow Tyres, Double Aluminium Rims
27.5" x 1.95" Kenda Kontact tyres with K-Shield puncture-resistant liners and reflective sidewalls. The tyres are our narrowest yet, providing less rolling resistance and matching the reliable feel of a traditional commuter bike.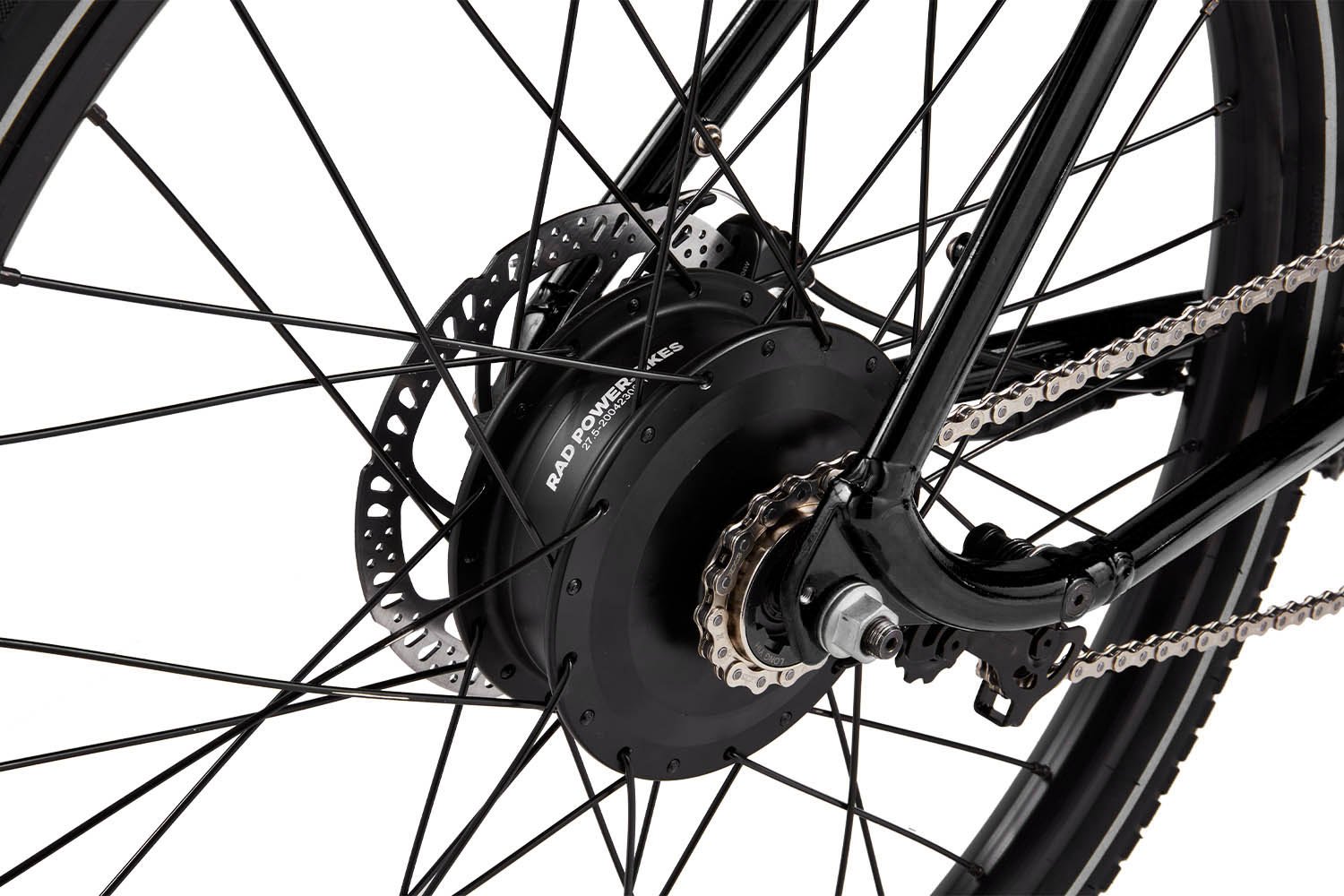 250W Geared Hub Motor
A powerful 250W geared-hub motor provides 50 Nm of torque for a smooth, capable ride.
Single-Speed Drivetrain
The single-speed drivetrain promises easy riding and low maintenance. Ideal for last-minute trips across campus or zipping around town on an urban adventure.
New, Innovative Battery Pack
Features a new 48V 10.5 Ah 504 Wh battery pack. At 3 kg, it's nearly 1 kg lighter than our standard battery pack, but still offers the 45-80+ km range our riders expect.
Lighter Weight
Live in a top floor apartment with limited space? We got you. The RadMission weighs 7 kgs less than any other bike in our line-up.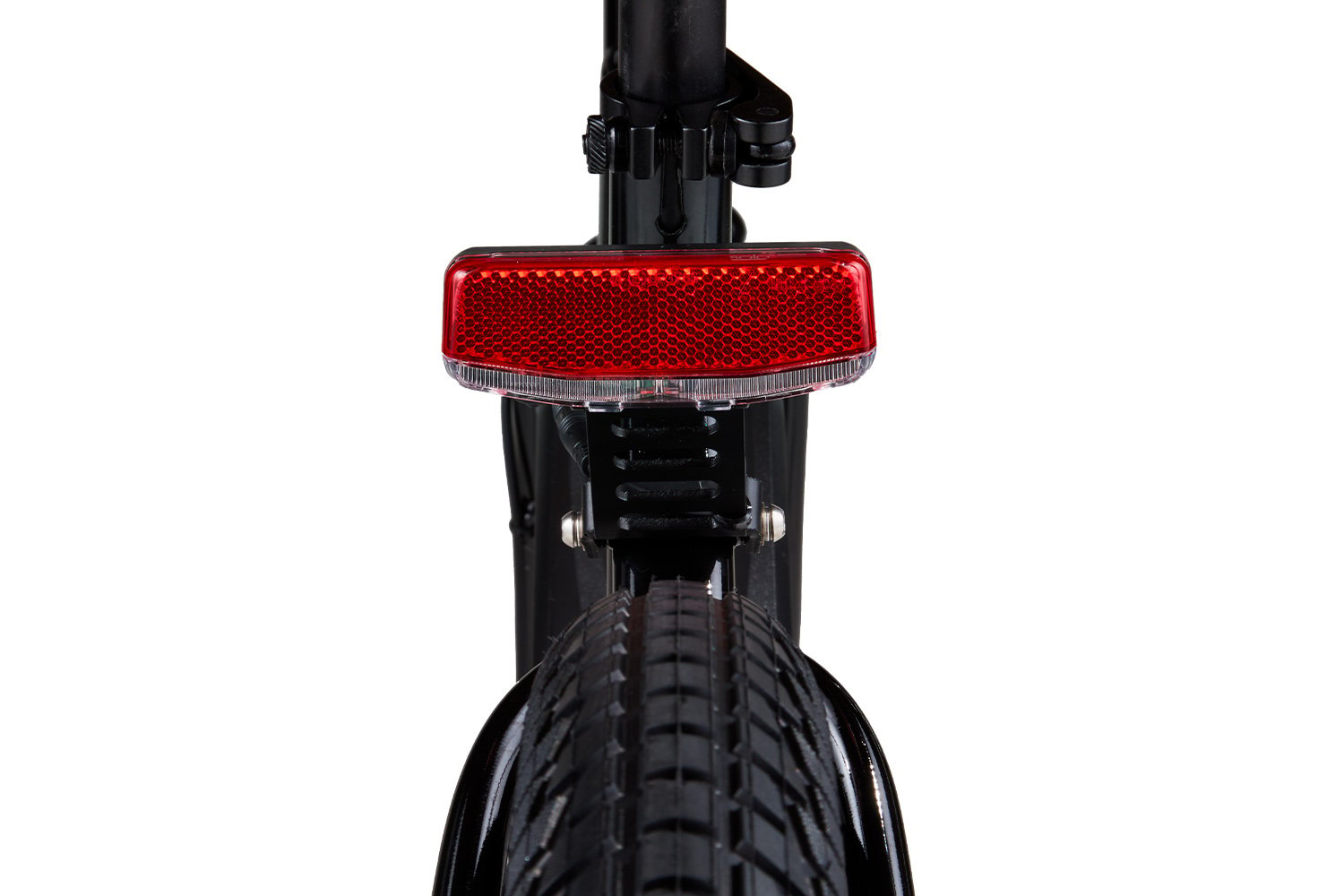 Integrated Brake Light
Powered using the main battery pack and features brake light functionality that is activated any time the brakes are applied.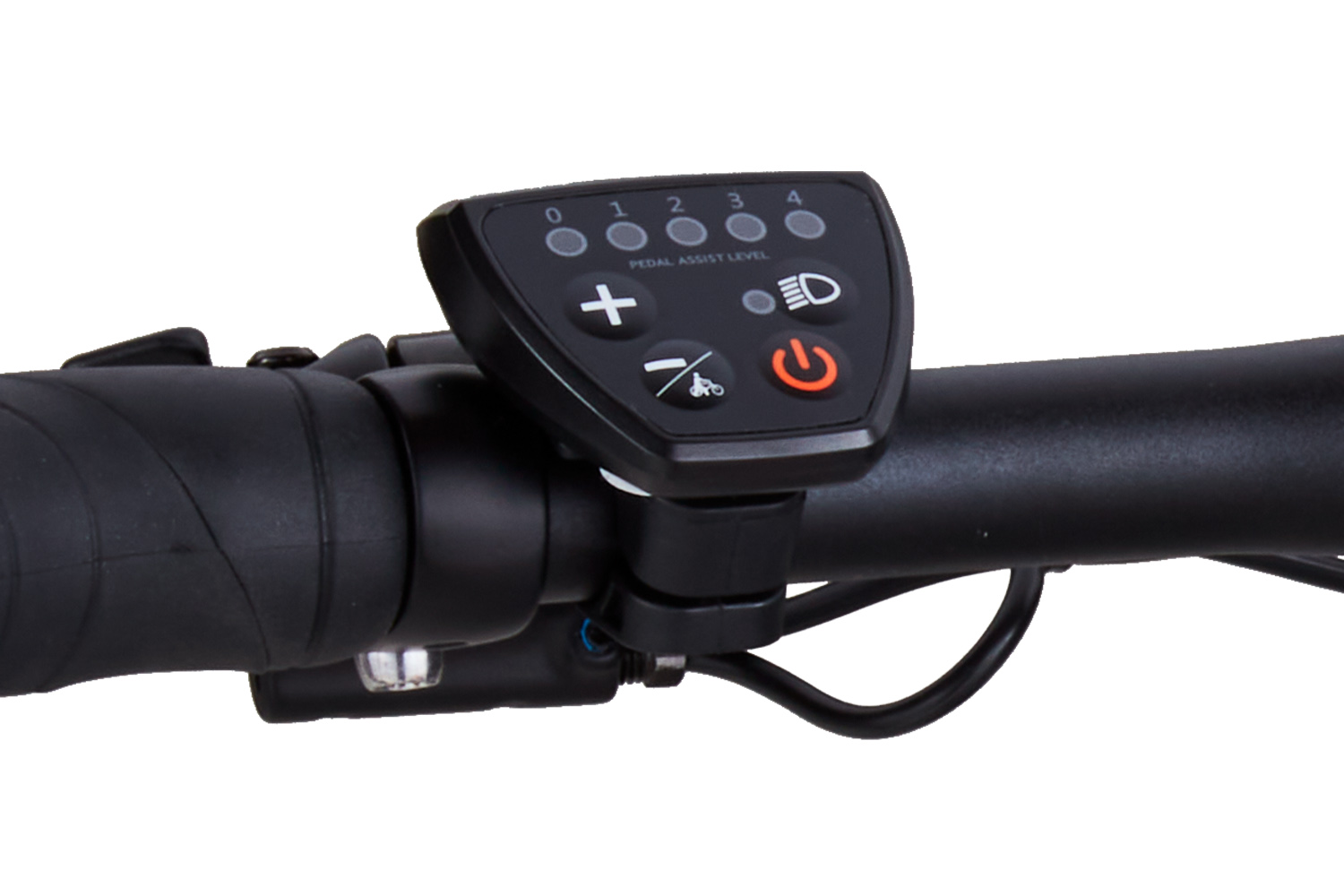 LED Control Panel
A straight-forward LED control panel means one click on and one click off, with additional buttons for lights and pedal assistance, and LEDs to indicate battery and assist levels.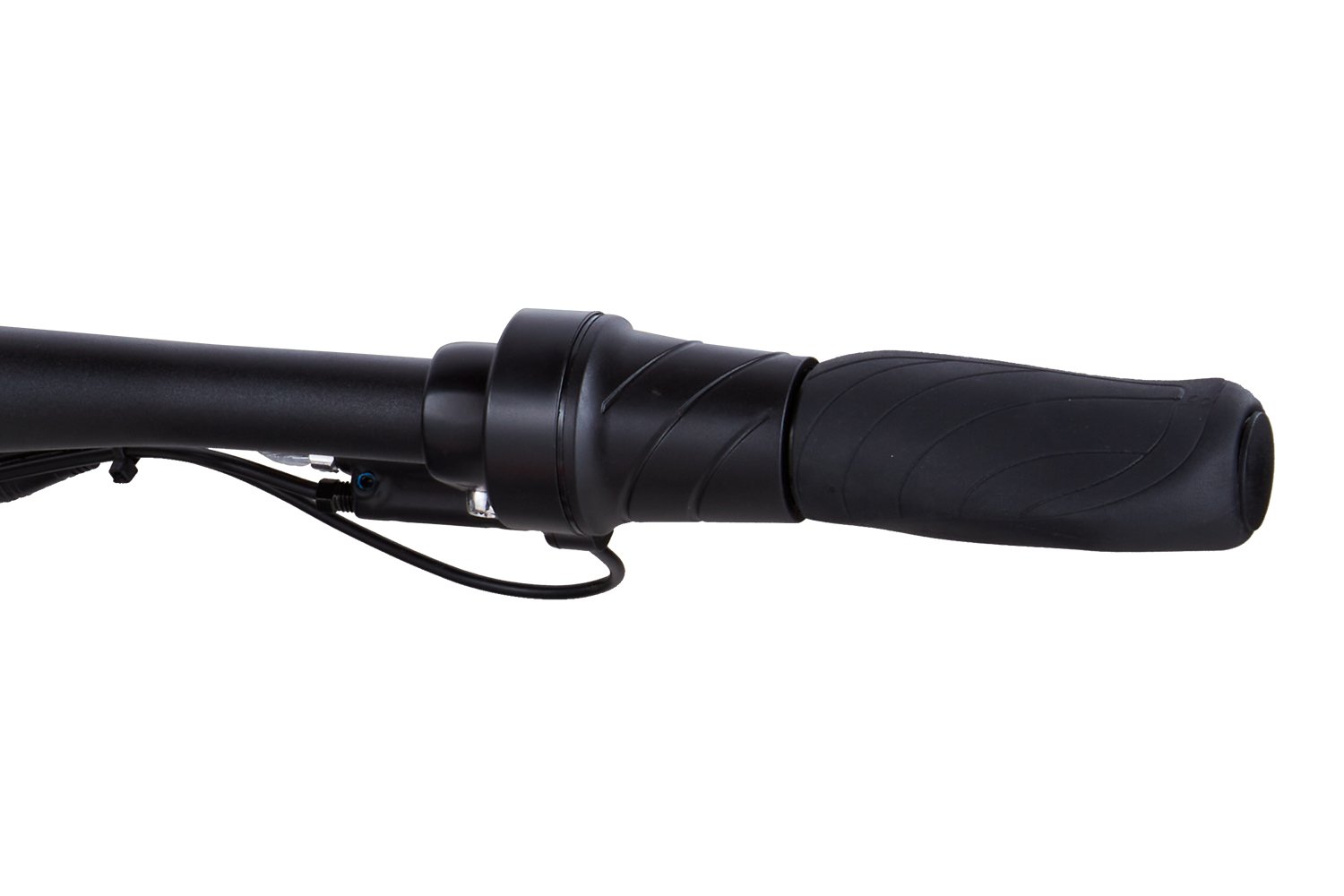 Twist Power Assist
250W of power on-demand gives you an extra boost when you need it. Use the Twist Power Assist to move-off from complete standstill, or speed up when you need to.
Battery
48V, 10.5 Ah (504 Wh), with Lithium NMC 18650 (LiNiMnCoO2) Samsung 35e

Charger
48V, 2 Amp Rad Power Bikes smart charger, operates on both 110V and 230V AC power outlets

Controller
48V, 250W

Display
Rad Power Bikes custom LED display


Hub Motor
Geared Hub Motor with 5:1 Planetary Reduction

Lights
Headlight: 40 Lux, Seeing distance: 230 ft (70m), Being seen distance: 2+ mi (3,500m)
Taillights: Integrated taillight with brake light indicator functionality

Pedal Assist
12-magnet, cadence sensing, crank mounted


Range
25–45+ mi (40–72+ km)

Twist Power Assist
Twist Power Assist

Top Speed
25 km/h

Wiring
Water resistant connectors and wiring harness

USB Ports
None


Brake Calipers
Tektro Aries caliper (MD-M300)

Brake Levers
Aluminum alloy comfort grip levers with motor cutoff switch

Brake Pad Material
Sintered metal

Brake Rotors
Tektro 180 mm front and rear

Chain
KMC Z7

Crank Set
50T chainring; 170 mm crank length; square-taper J.I.S.; dual-sided aluminium chainring guard

Derailleur
N/A

Fenders
Optional accessory sold separately

Fork
Rigid steel fork


Frame
6061 aluminum

Freewheel
16 tooth freewheel, 16, model: LY-BB16T8VNF

Gearing
Single speed, 16-50

Grips
Durable rubber, round

Handlebars
Aluminum swept back handlebar

Headset
Semi-intergrated 1-1/8", straight steerer

Kickstand
Optional accessory sold separately

Pedals
Wellgo composite platform pedals with reflectors, CrMo axle, standard 9/16" x 20 TPI threading

Racks
Optional


Rims
Double-wall aluminium, 36 Hole

Seat Post Size
390 mm x 27.2 mm

Seat Post Clamp
Quick release

Shifter
N/A

Spokes
12 gauge Stainless steel, black

Stem
60 mm

Tires
Kenda Kontact, 27.5 x 1.95" (650B) 4-ply with K-Shield puncture-resistant liner, reflective sidewall, standard tubed tire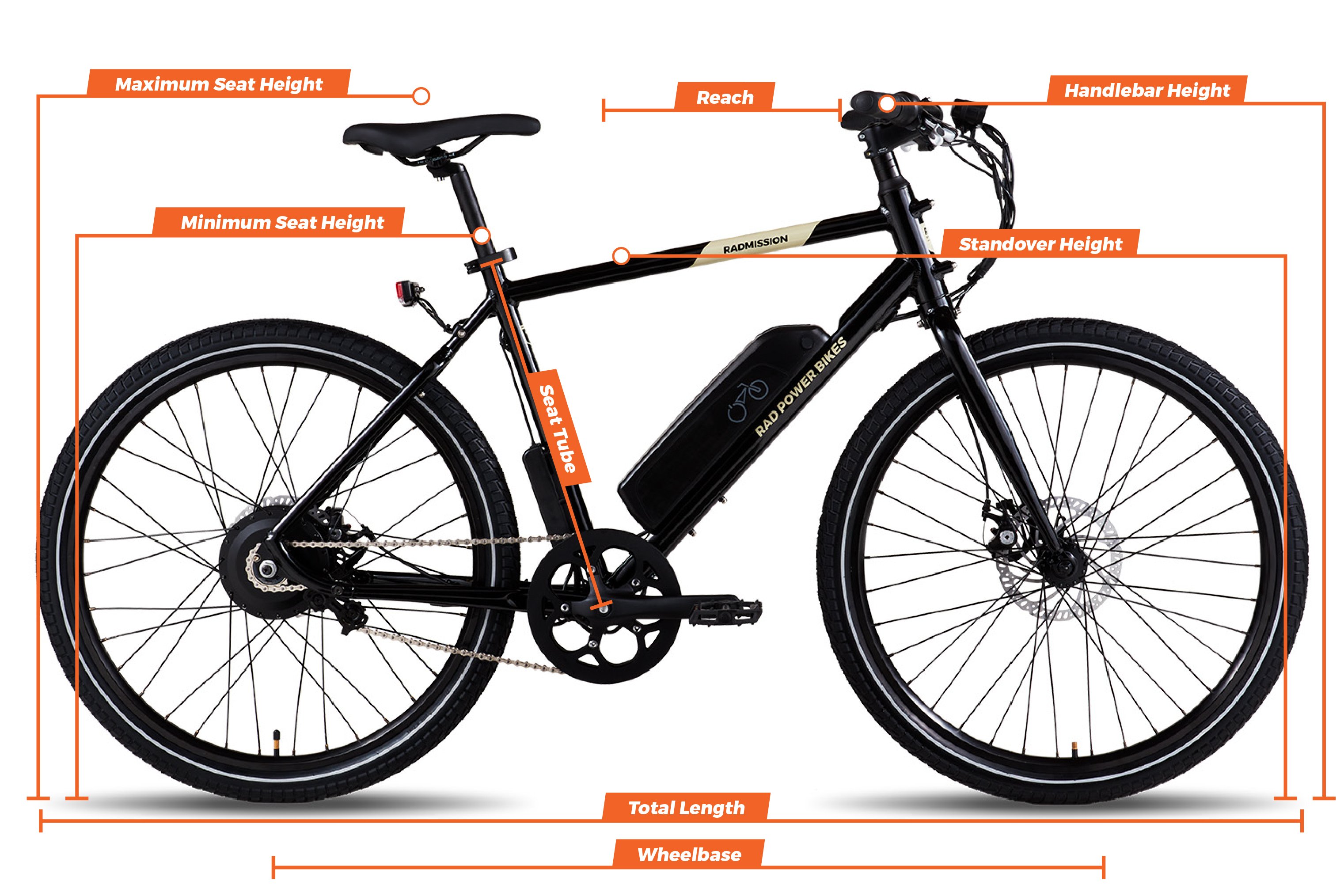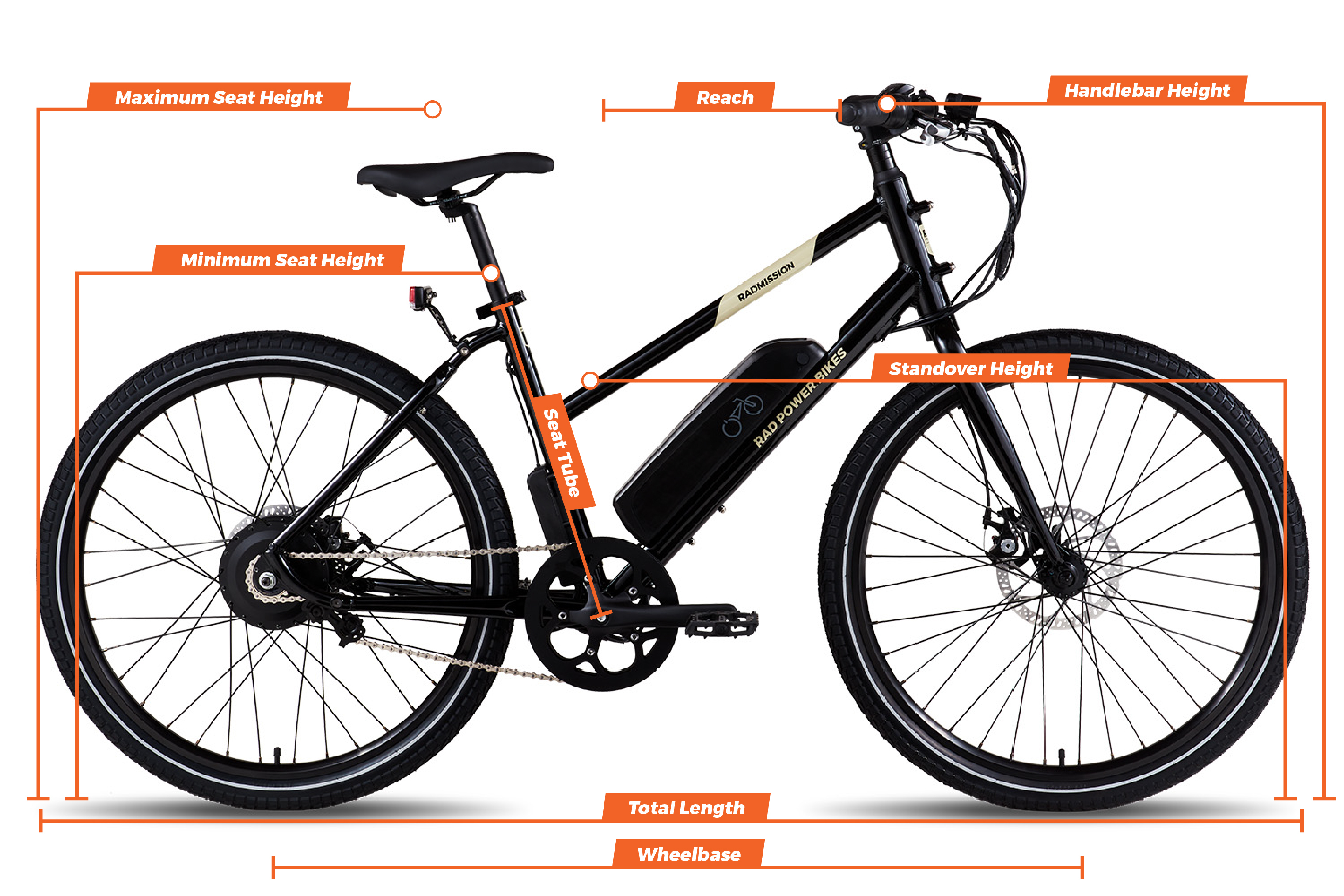 Recommended Rider Heights
Mid-Step: 157 cm - 188 cm
High-Step: 178 cm - 195 cm

Frame Size
Mid-Step: 18" (460 mm)
High-Step: 21.5" (550 mm)

Handlebar Height
38.5" (980 mm)

Handlebar Reach
Mid-Step: 14.5"
High-Step: 15"

Seat Height
Mid-Step: 685 mm - 939 mm
High-Step: 762 mm - 990 mm
*Measured from bottom of the pedal stroke

Stand Over Height
Mid-Step: 711 mm
High-Step: 787 mm

Total Length
Mid-Step: 1795 mm
High-Step: 1803 mm


Wheelbase
1116 mm

Dropout Width
135 mm rear dropout width, 12 mm axle diameter, 10 mm flats

Bottom Bracket Shell Width
68 mm shell, 127.5 mm spindle

Seat Tube Length
Mid-Step: 460 mm
High-Step: 550 mm

Chain Stay
470 mm


Handlebar Width
660 mm

Crank Length
170 mm

Seat Post Diameter
27.2 mm

Max Tire Width
1.95"

Bike Weight
Mid-Step: 21.5 kg
High-Step: 22 kg

Payload Capacity
125 kg


Available in High-Step and Mid-Step

The high-step frame offers a 787 mm standover height for riders between 178 cm - 195 cm, while the mid-step frame has a 711 mm standover height for riders between 157 cm - 188 cm.